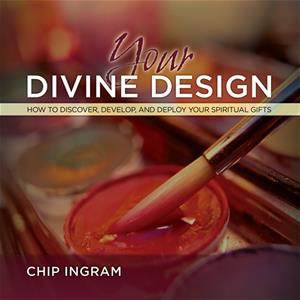 Your Diving Design by Chip Ingram begins Wednesday, January 10th at 6pm
Do You Know How God Has Uniquely Wired You?

Do you know that you, your friends, and the members of your church are God's "masterpiece?" God has a dream for your life. He didn't save you just so He could take you to heaven. He has an assignment for you here on earth.

He created you in His image, He filled you with His Spirit, and He blessed you with spiritual gifts so you could live a life of impact. But until you know how to recognize and use your gifts, you will never experience all that God wants you to experience. You were meant to discover how He has uniquely wired you, and the roles in the body of Christ that He created you to fulfill.

In this fascinating study, Chip Ingram explores passages from Romans, Ephesians, and 1 Corinthians to understand the role of spiritual gifts. In the process, you'll be invited to pinpoint your own primary spiritual gift and then learn a Biblical process to develop, and deploy your gift for greater ministry and significant impact.

This 4-week series begins Wednesday, January 10th at 6pm (Ends February 7th). A light dinner and childcare provided. Located at Emmanuel Baptist Church, 240 Main Street, Bloomfield ON.
---
JOIN US on Wednesdays ~ Starting January 10th at 6pm at Emmanuel Bloomfield (240 Main Street, Bloomfield). *Light dinner & childcare are provided. To register call 613-393-2234 or sign-up in the lobby on Sundays at Emmanuel Baptist Church Bloomfield.